Instant Pot Steamer Basket is an indispensable pressure cooker insert for many Instant Pot Electric Pressure Cooker users. One of the healthiest cooking method is to cook with a steamer basket because the food retains more flavors, nutrients, and texture.
6 Best-Selling Instant Pot Steamer Basket and Inserts
We received many readers' questions regarding which Instant Pot Steamer Basket or Pressure Cooker Inserts to buy and where to buy them.
So, we created this Best-Selling List featuring the 6 most popular steamer baskets and pressure cooker inserts among Instant Pot users.
*We'll continue to update this list as we discover more goodies for you. 😉
---
If you have been following our Instant Pot Recipes Videos, you might have noticed we often use this steamer basket!
The inner pot of 6-Quart Instant Pot is 8 inches in diameter, the adjustable fit of this basket will prevent food from falling out.
Not only do we love steaming broccoli or potatoes with this steamer basket (it truly helps potatoes retain their texture), we also love cooking chicken with it. As shown below in our Crispy Pressure Cooker Chicken and Gravy Recipe, the chicken's dripping made a homemade gravy at the same time using this basket!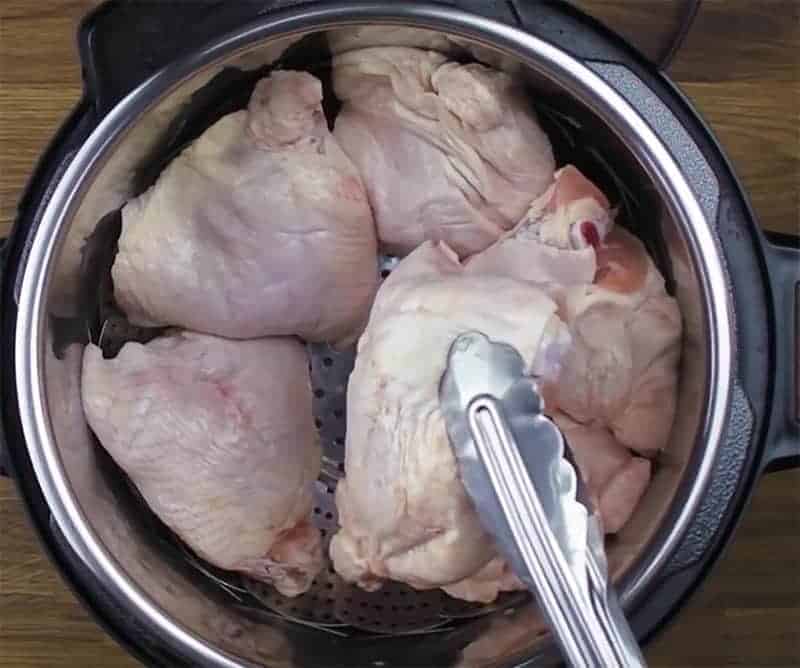 Highlights: Stainless steel, Compact, Easily adjustable size, Dishwasher safe, Can easily remove it from the pot
Diameter: 5.3 to 9.25 inches (Perfect for small to medium sauce pan & any 6-quart electric pressure cookers)
Note: We bought our steamer basket at a local store. We found the one provided in the link has the most consistent & great customer reviews among many similar steamer baskets.
2. 
---
Must-have in our kitchen! We use it frequently for our Pot-in-Pot (PIP) cooking method. You can see it in action with recipe + video here: Pressure Cooker Teriyaki Chicken and Rice Recipe.
We have one steamer rack that is 5″ Diameter and another rack 6.5″ Diameter. They both fit easily into our 6-Quart Instant Pot Pressure Cookers.
Highlights: Stainless steel, Budget-friendly, Compact, Easy to clean, Perfect for the Pot-in-Pot cooking method
Size: 5″ Diameter: 5 D x 2 H x 5 W inches
---
These stainless steel stackable steamer pans are popular among Instant Pot users and they are just perfect for the Pot-in-Pot (PIP) cooking method.
---
One of the most popular sold-out Instant Pot Accessories! Luckily, the supplier restocks quickly. 😀
This steamer basket can also be used as a lightweight strainer. So, you can wash, drain, and steam your food in this all-in-one steamer basket. You'll love this if you make your own bone broth or stock because you can easily remove all the ingredients at once, rather than scooping them out bit by bit.
Highlights: Stainless steel, Sturdy, Well built, Dishwasher safe, Budget-friendly
Size: 8-1/4″ Diameter x 4-3/4″ Height (Legs: 5/8″) – fits into 6-Quart Instant Pot Pressure Cooker
Capacity: 3 quarts
Note: You need to remove the handles to fit it into your 6-Quart Instant Pot
---
A must have in our household!
The perfect companion for dim sum such as Shumai Recipe (Shrimp & Pork Dumplings) or Har Gow (Shrimp Dumplings). Trust me, dim sum simply tastes better in a bamboo steamer as some of its natural bamboo fragrance will be infused while steaming. 😉
Some of our readers asked if the bamboo steamer will hold up against the high heat in the pressure cooker. We are not totally sure, but we used ours occasionally for almost a year in the Instant Pot and they haven't shown any wear & tear yet.
You may ask what is better than a single bamboo steamer? 2 Tiers bamboo steamer means more dim sum at the same time!! 🙂
Highlights: Easy to use, Dome shape lid prevents water vapor from dripping onto the food, Easy to clean
Size: 8-inch (8 x 8 x 5.5 inches) – fits snugly into 6-quart Instant Pot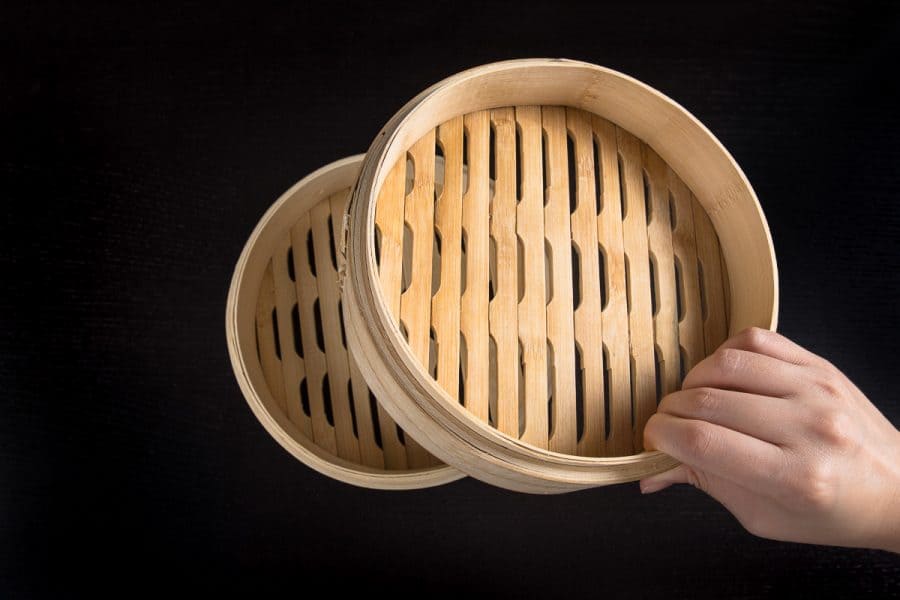 Instant Pot Steamer Basket Honorable Mentions
We haven't personally used the following steamer baskets, but they are quite popular among our readers 🙂
---
Highlights: Silicone, Dishwasher safe, Easy to remove, Flexible, Easy to store, Easy to clean, High walls keep food from falling into the pot
Size: 7.2 x 3.8 x 10.5 inches
---
Sale
Highlights: Stainless steel, Versatile with separate basket and rack for steaming different food, Easy to wash, Easy to remove
Size: 8.7 W x 8.7 D x 2.1 H inches (Rack: 8-1/4″ Diameter x 1-1/2″ Height)
Which Instant Pot Steamer Basket do you use and like?
Some Useful Tips & Resources
All Our Pressure Cooker Recipes
*Disclosure: We are an Amazon Influencer/Amazon Associate. This means that if you decide to purchase items or services on Amazon through our links on Pressure Cook Recipes to Amazon, Amazon will send a small commission to us at no additional costs to you. Thank you!